Regular price
$1,898.00 USD
Regular price
Sale price
$1,898.00 USD
Unit price
per
Sale
Sold out
Flysurfer Sonic4 Foil Kite  (preorder only, it will take about 4 weeks to arrive)
Big-Air, Hydrofoil, Freeride
The SONIC excels in performance, offering powerful lift and incredible hangtime. Pilot a light and streamlined design that maximizes airflow and minimizes drag. The kite slices through the air with minimal resistance, enhancing agility, speed, and responsiveness. Predictable in rough conditions to cover a wide wind range for advanced riders pushing limits to shatter records. Brace yourself for unparalleled acceleration, adrenaline-fueled adventures, and insane boosting capacity!
| | |
| --- | --- |
| TECHNOLOGY | Closed-Cell Foil Kite |
| SKILLS | Intermediate + |
| SIZES | 6 / 8 / 10 / 12 / 15 / 18 |
| TERRAIN | |
//
SUPREME ACCESSIBLE PERFORMANCE
//
INCREDIBLE WIDE WIND RANGE
"The SONIC is more accessible! The best overall performance-to-easiness ratio! Focus on your tricks rather than piloting the kite."
Benni Boelli, Head of Research & Development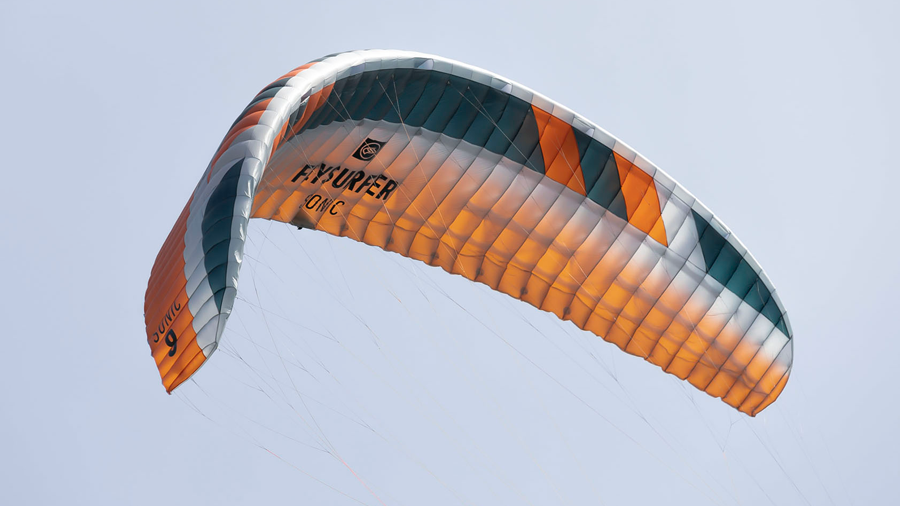 STREAMLINED LIGHTWEIGHT CONSTRUCTION
Constructed from state-of-the-art, lightweight materials to obtain an optimal power-to-weight ratio. The high-strength sail is a triple-ripstop 34 g/m² TX-Light, and the leading edge features a very durable 44 g/m² DLX+ fabric that protects against abrasion. All SONIC components are designed for maximum performance on any terrain. The streamlined construction ensures that the kite remains agile and highly maneuverable while maintaining peak performance.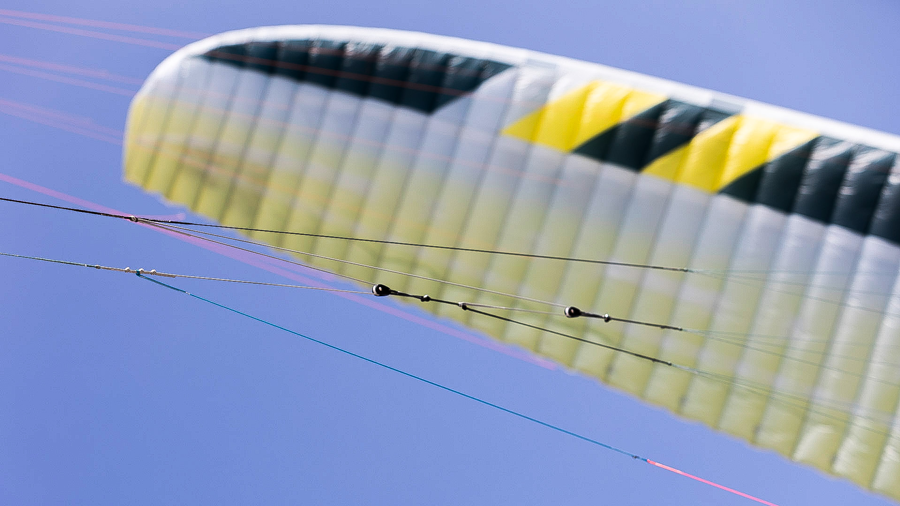 PERFORMANCE TUNER
The performance tuner is a knot ladder integrated into the C-pulley line to modify the camber of the kite. Moving the Z-Main Line affects the bar forces and performance of the kite. Shortening increases low-end power and steering/holding forces. Lengthening does the opposite, decreasing brake line tension and steering/holding power. With adjustable settings for the brake lines, power delivery, and depower, you can optimize, based on wind conditions and personal preferences, to unlock the kite's maximum potential.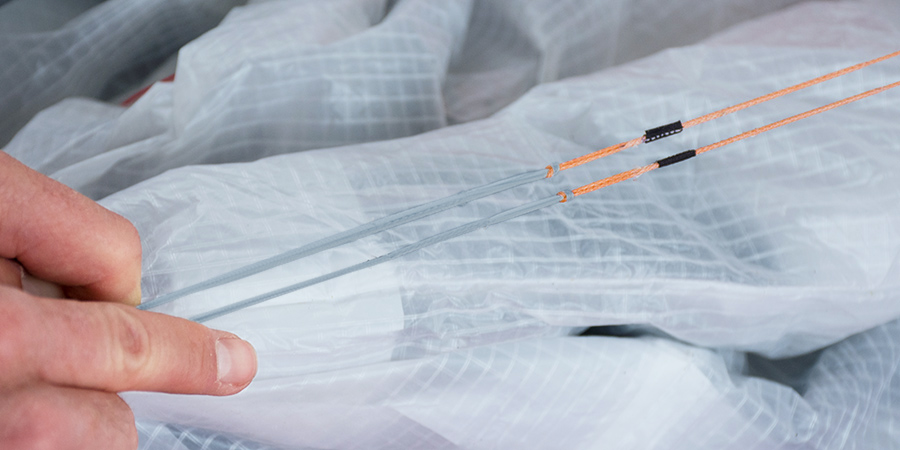 BRIDLE CHECK TOOL
The bridle check tool makes it easier to compare the bridle line lengths. At each level (A, B, C, Z), on each wing side of the foil kite, black markings make comparing front and back main line lengths easy (see line plan). To restore the flight characteristics, length differences between B and C levels relative to A level must be annulled by moving the rings on the mixer. To maintain performance and stability, we recommend regularly checking using the bridle check tool, if the product is used intensively.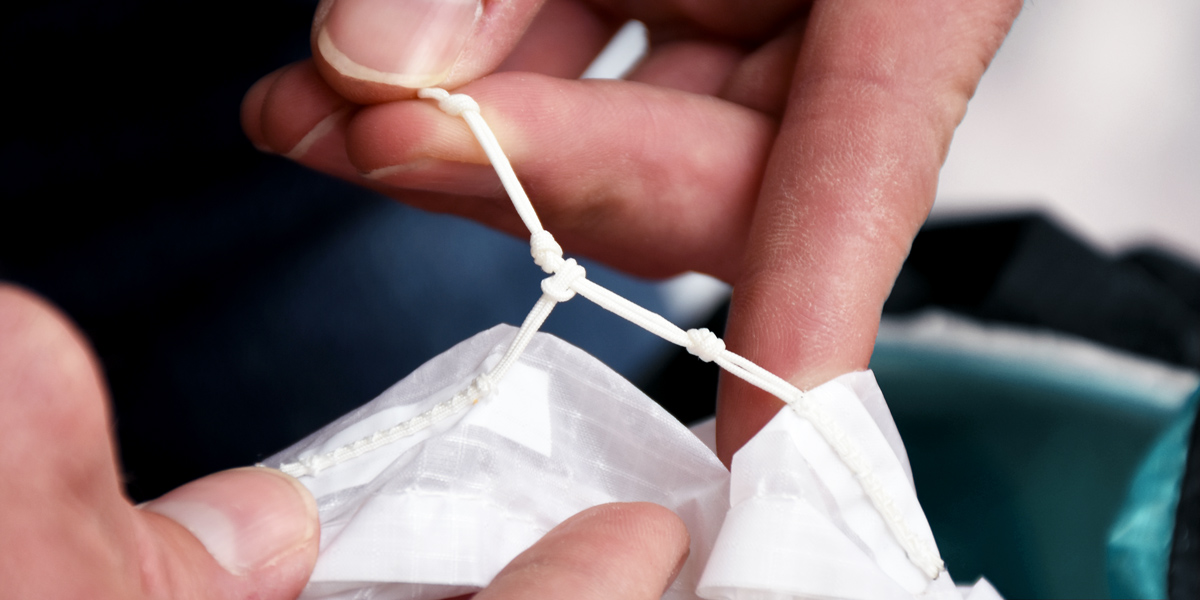 PROFILE MOMENTUM ADJUSTER
The PMAs are knot ladders that are sewn onto the profile in inside the foil kite. They sit on the upper and lower sail between the A and B levels. By shortening the knot ladders, the profile camber can be adjusted, which gives the foil kite more performance or stability. If a change is made, it should be made symmetrically. We recommend the help of a FLYSURFER sales partner to ensure correct settings of the Profile Momentum Adjuster.
The SONIC is the trustworthy, user-friendly, and predictable powerhouse you want to ride in the most challenging weather. Specialized to meet the needs of the next generation of big air kiters and foilkite loyalists.
WIDE WIND RANGE
The SONIC is engineered to perform exceptionally well across various wind conditions. Whether you're kiting in light breezes or strong gusts, it maintains its shape, responsiveness, and efficiency. The enormous depower minimizes risks and ensures you can confidently push the limit in changing weather conditions and terrain. The kite features a sophisticated bridle system and refined canopy profiles to ensure it flies consistently smooth.
ENHANCED ACCESSIBILITY
The kite incorporates advanced aerodynamics, making it incredibly stable in various wind conditions. This stability lets you focus your riding rather than constantly adjusting the kite. The rework of the internal structure speeds up the air inflation, ensuring immediate control after the launch. After a crash or watering of the kite, you can swiftly get the kite back in the air with minimal steering, reducing downtime. In an emergency, the kite flags out on a single front line.
| SONIC | 6 | 8 | 10 | 12 | 15 | 18 |
| --- | --- | --- | --- | --- | --- | --- |
| Wind Range (knots) | 18-45 | 15-38 | 12-33 | 10-26 | 6-21 | 5-19 |
| Sweet spot (knots) | 20-38 | 18-33 | 15-25 | 12-22 | 8-18 | 7-16 |
The wind range chart is to be used as a point of reference. It is based on a rider who weighs around 75kg (165lbs.) Actual use will vary depending on your weight, skill level, board size/type (twintip or hydrofoil) and wind conditions on water or land. When choosing a kite size, always use common sense and repeatedly choose a smaller size if you are not sure, especially when using the kite on land.
Share
View full details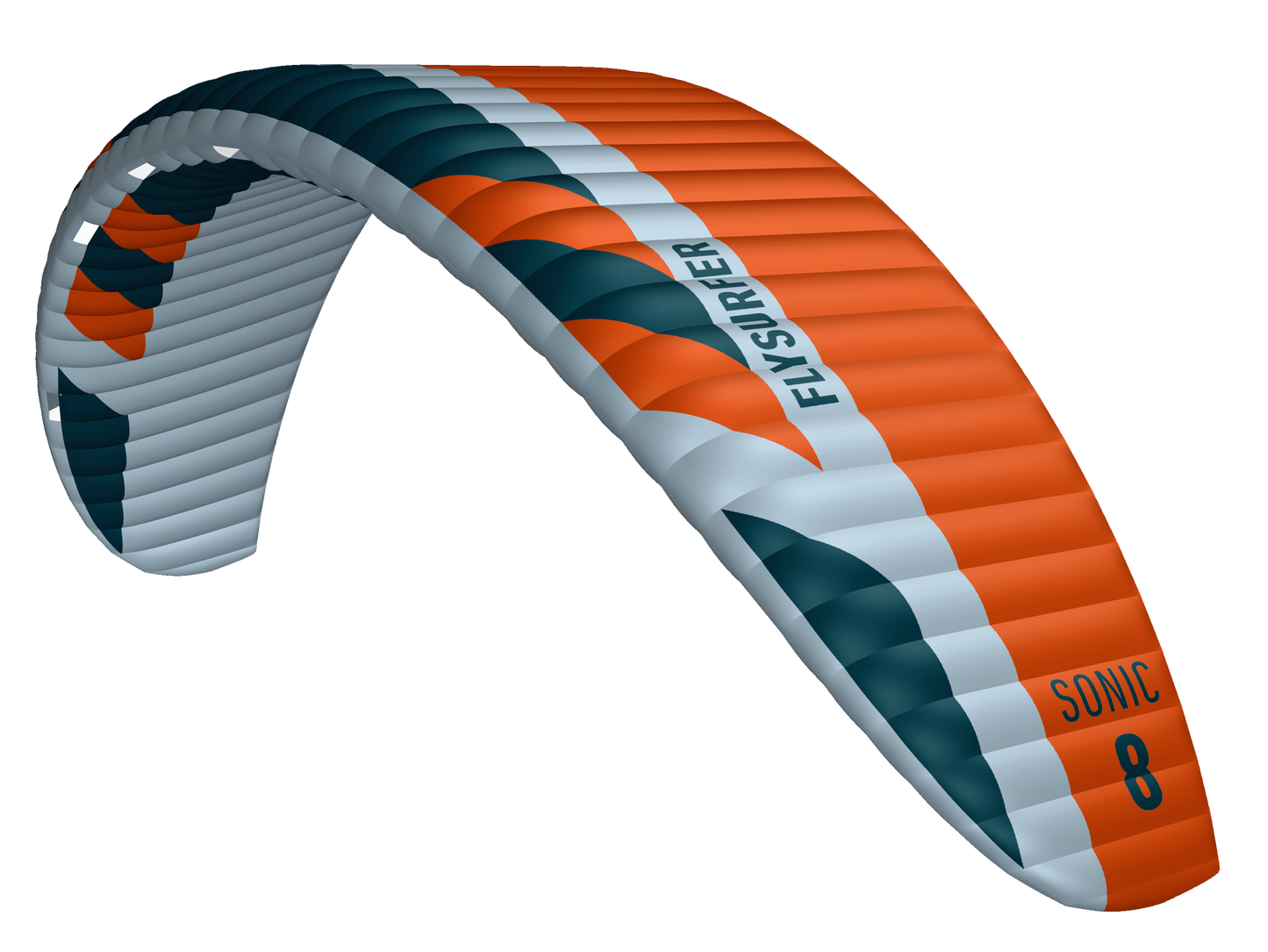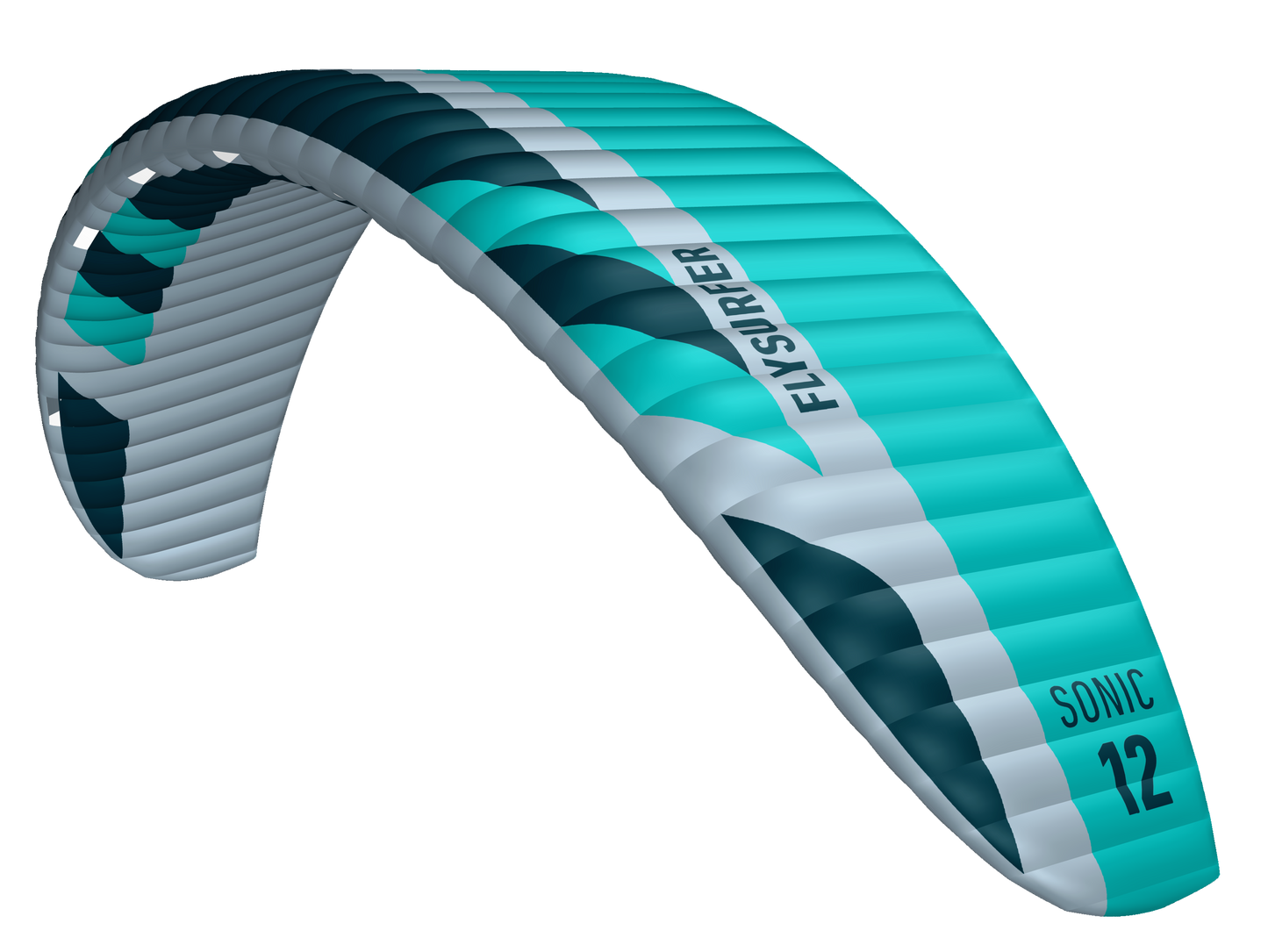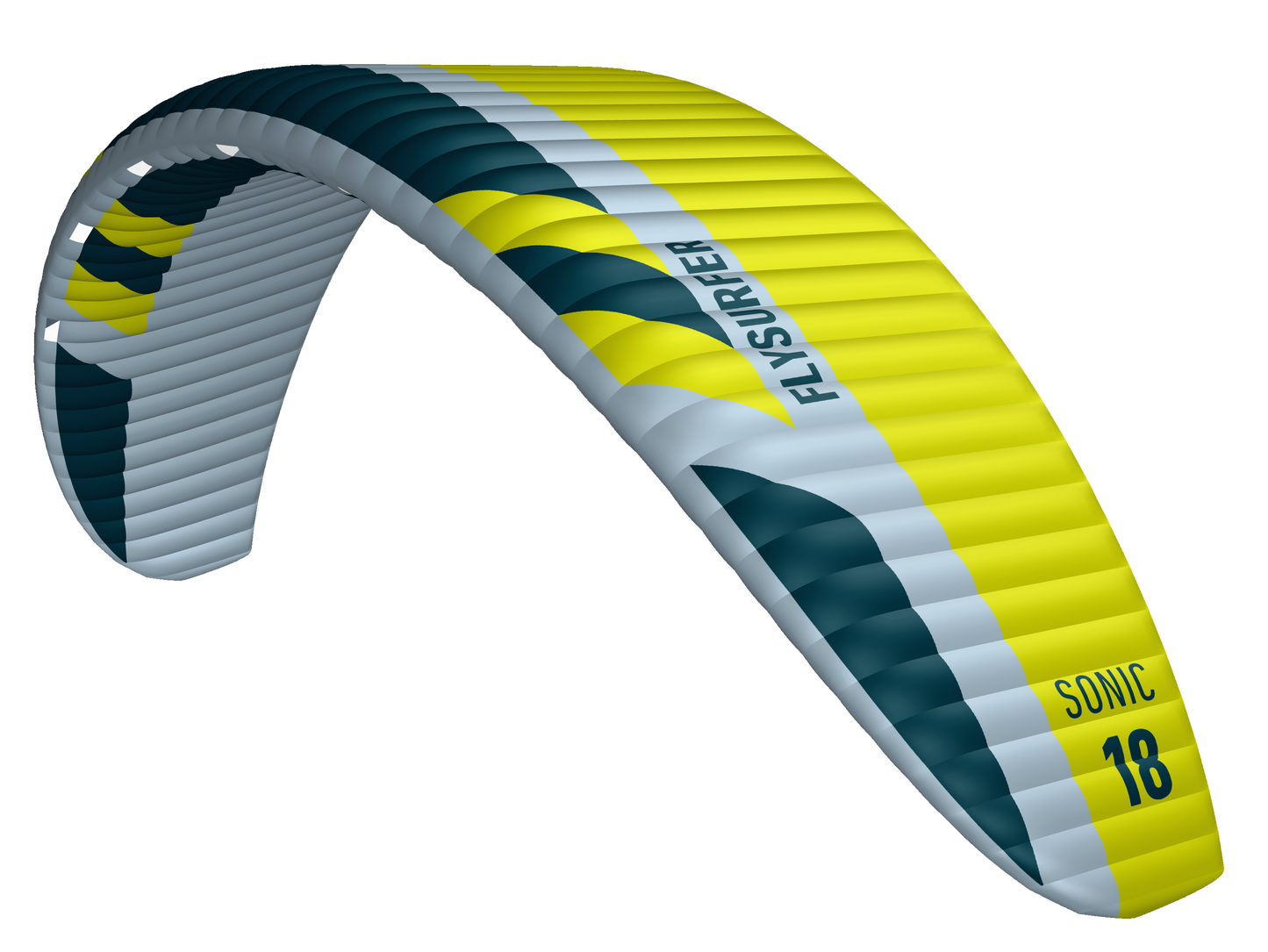 Free Shipping

U.S. ORDERS OF $39 OR MORE ARE ELIGIBLE FOR 100% FREE SHIPPING!

FREE SHIPPING ONLY AVAILABLE FOR ORDERS $39 OR MORE WITH A FEW EXCEPTIONS FOR SALE PRICE OR OVERSIZE ITEMS LIKE SURFBAORDS AND SUP'S. 

OFFER ONLY VALID FOR SHIPPING WITHIN THE CONTINENTAL UNITED STATES (48 CONTIGUOUS STATES).  EXTRA SHIPPING CHARGES APPLY OUTSIDE OF THESE CONTINENTAL STATES, SUCH AS ALASKA, HAWAII, PUERTO RICO, GUAM, WAKE ISLAND, FEDERATED STATES OF MICRONESIA, US VIRGIN ISLANDS, ETC.