Regular price
$1,868.00 USD
Regular price
Sale price
$1,868.00 USD
Unit price
per
Sale
Sold out
Ozone Reo V7 Ultra X Surf Kite

THE SHARPEST TOOL IN THE BOX
Ultra-light, ultra-quick, ultra-responsive and ultra-reliable
Applying new but proven lightweight and stiff performance materials, tested across a three year period, has led to the next evolution in the Reo's stunning legacy.
Next level wave riding specific design
High performance, light weight materials for ultimate handling in surf
Super fast and direct feedback, even at the edge of the window
Mind blowing drift and slack line control
Transverse sail shaping for tighter canopy and huge range
WHO IS IT FOR?

This second model released alongside the Reo V7 is a razor sharp, laser focused wave kite designed for riders searching for ultimate performance.
The Ultra-X model is designed around the same transversely shaped canopy and air frame skeleton as the Reo V7 but features a 20% lighter dacron and 17% lighter canopy material. This may be one of the lightest pure wave kites on the market, but it's not all about weight.
As ever our primary focus was on aerodynamic performance and the Ultra-X is stiffer throughout, offering increased drift, reduced nose diving at the edge of the window in radical surf and lightning fast, super-crisp response.
Drift performance and responsiveness at the edge of the window in slack line situations is perhaps the biggest appeal to those searching for true surf performance. While the Reo has always been a pure wave performance machine, all of these lightweight performance handling gains offer huge advantages for the freeride kitefoiler, too.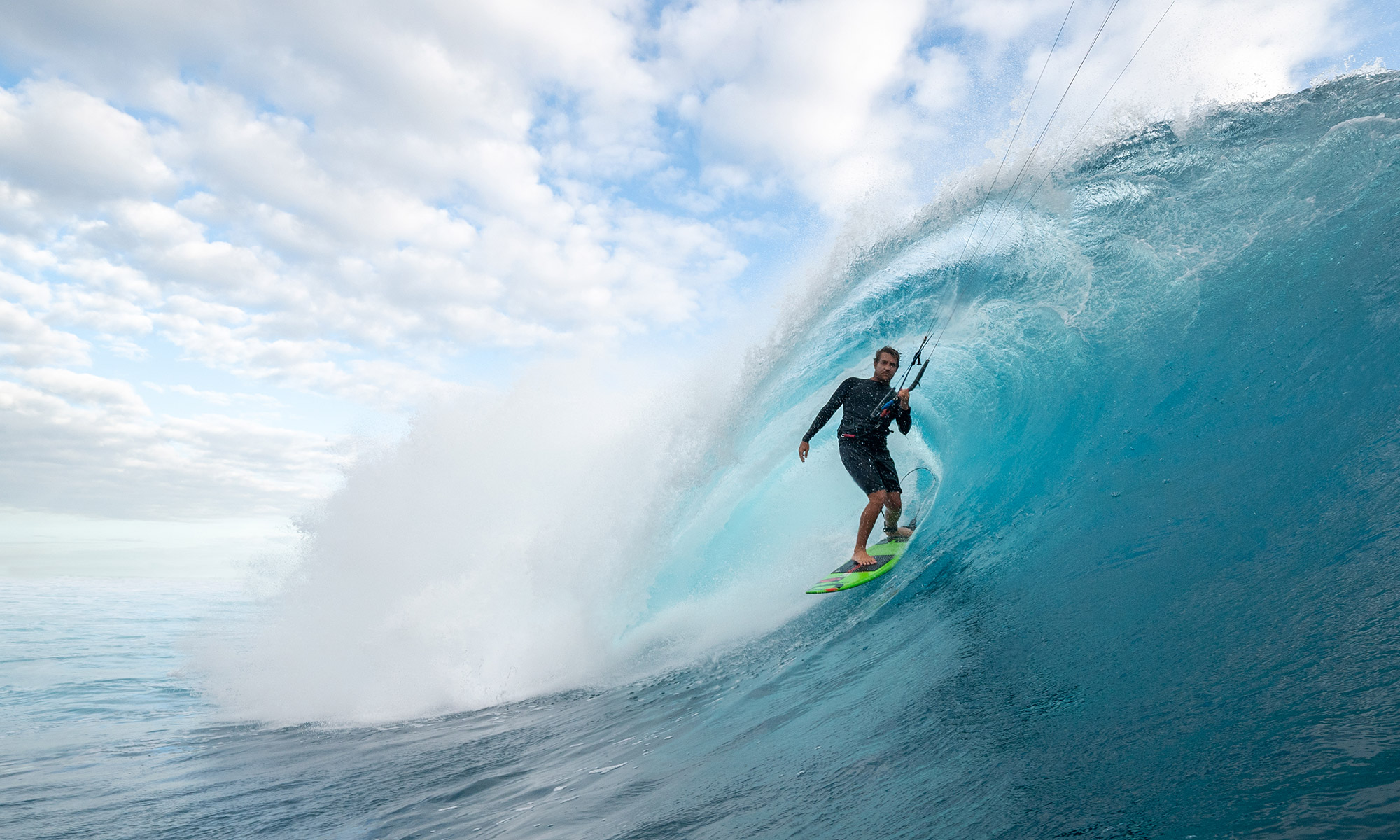 BUILDING FROM THE V7 BASE
Broken down, the Ultra-X is built around the new V7 framework. There have been many subtle tweaks to stitching lines and panels applied to these designs since the V6 model, but the biggest improvement in canopy tautness has been achieved thanks to transverse sail shaping on the leading edge, improving your sense of sail control.
Applying the experience of our paragliding design colleagues, the V7 framework features an extra seam in the sail running close to the leading edge, which allows for more true 3D shaping.
Not only have we managed to add more profile curvature, we've also added more strength in the high lift zone thanks to that extra seam.
ULTRA-X MATERIALS
In collaboration with colleagues in the dedicated prototyping department of Ozone's own factory, our design team embarked on an intense material development and testing programme spanning more than three years.
The use of light weight performance materials has helped deliver improved drift, faster reactiveness / turning speed and more drive through the window. Despite being around 20% lighter than the V7, all materials used in the Reo Ultra-X are proven to deliver integral strength, too.
LIGHTER WEIGHT PERFORMANCE DACRON
The leading edge and struts are not only 20% lighter than 160g standard dacron, but is also more rigid. Also used on our new Flux V1 wing, this new 125g performance dacron material guarantees a longer lasting shape but also allows for more responsive handling and a tighter canopy for more aerodynamic performance gains.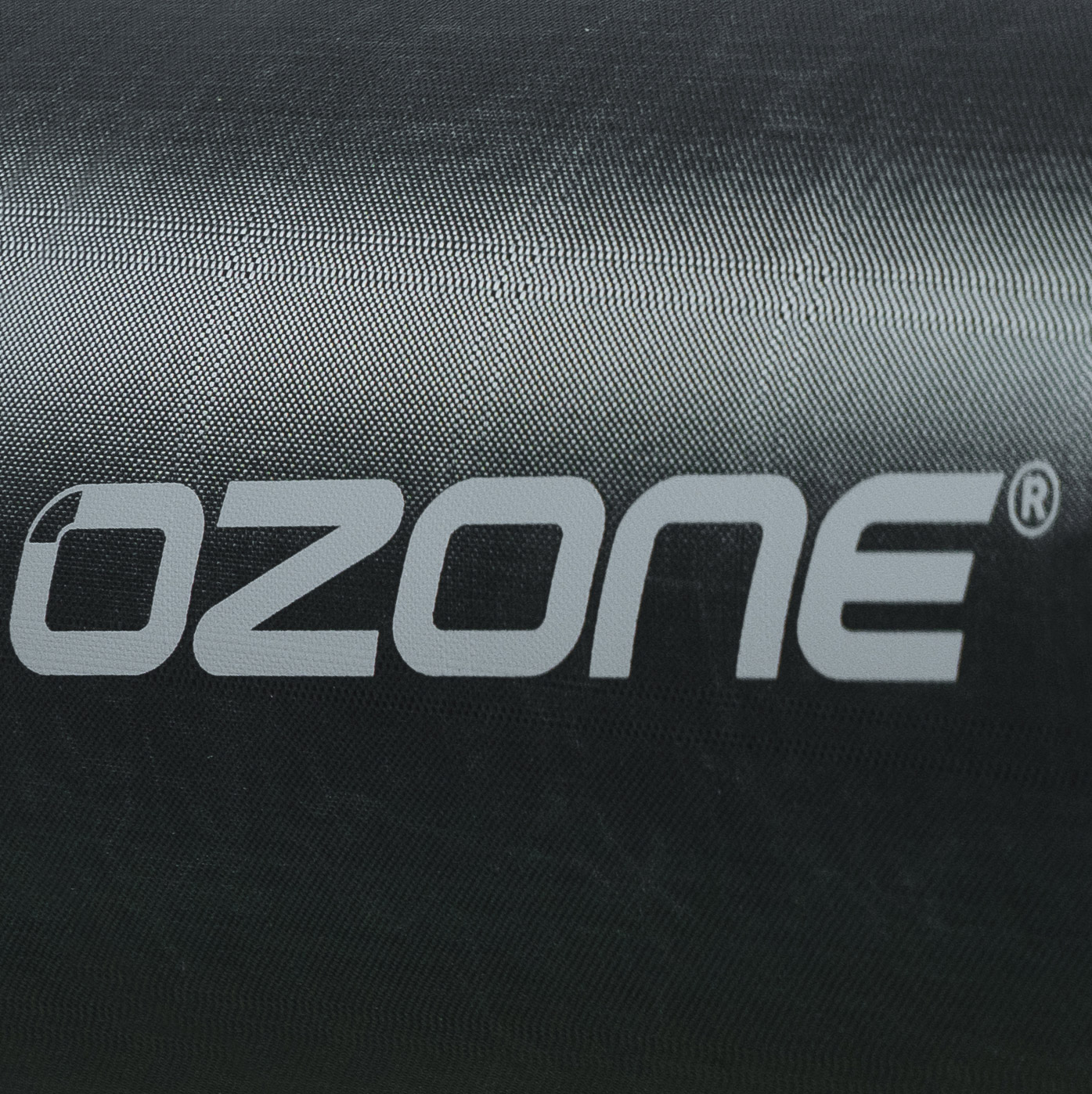 LIGHTER WEIGHT CANOPY
Utilising the weight saving properties of the latest 46g double ripstop Teijin cloth (17% lighter than a 55g standard triple ripstop) further contributes to the increased drift performance in particular. The performance coating ensures high levels of strength and durability at a reduced weight.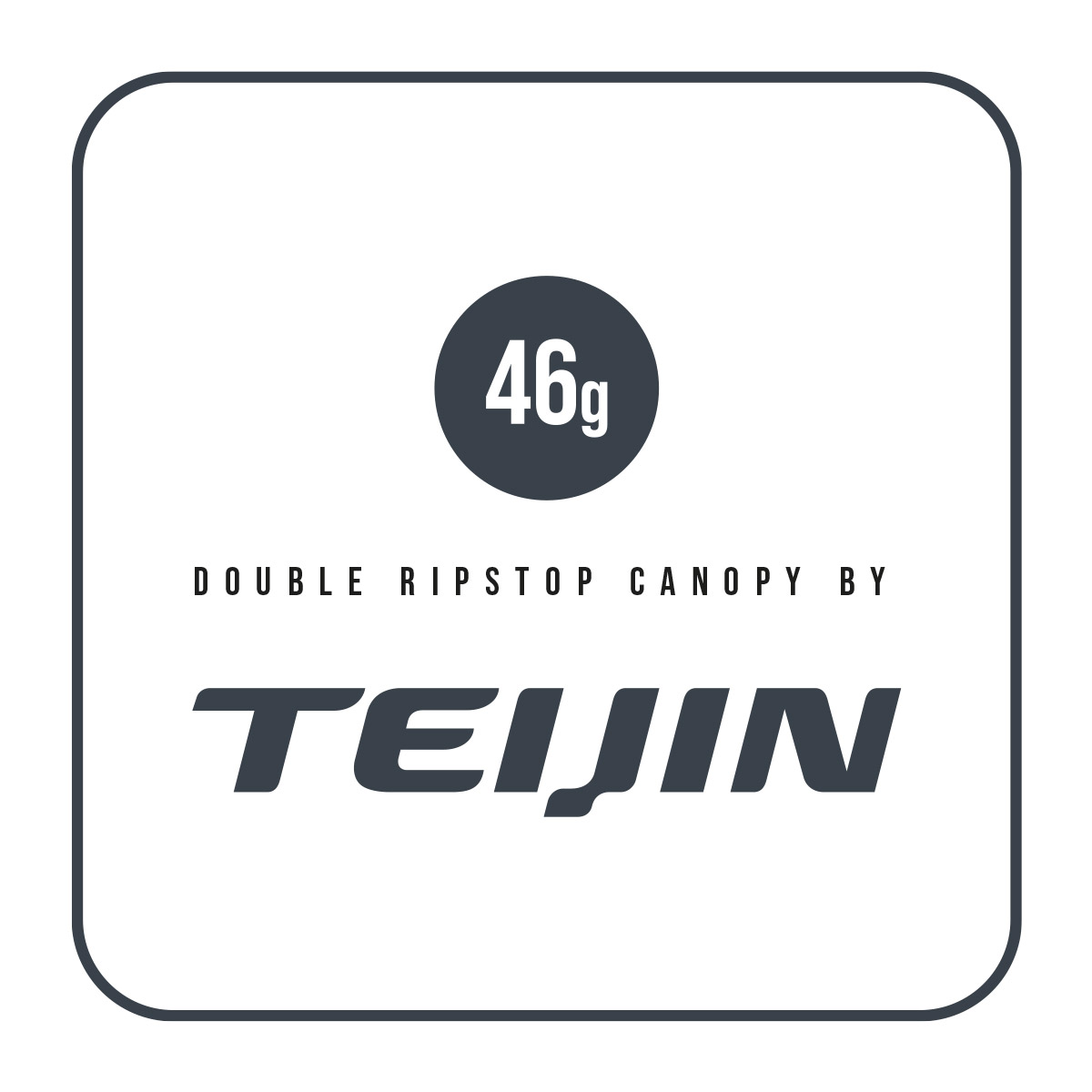 BRIDLES – COMPLETING THE FULL EXTENT OF THE MISSION

 
As we continue to discover ever increasing aerodynamic performance, further gains are achieved through the use of a Technora line material for the bridle lines that's 25% lighter and 25-35% thinner to further reduce drag throughout all areas of performance.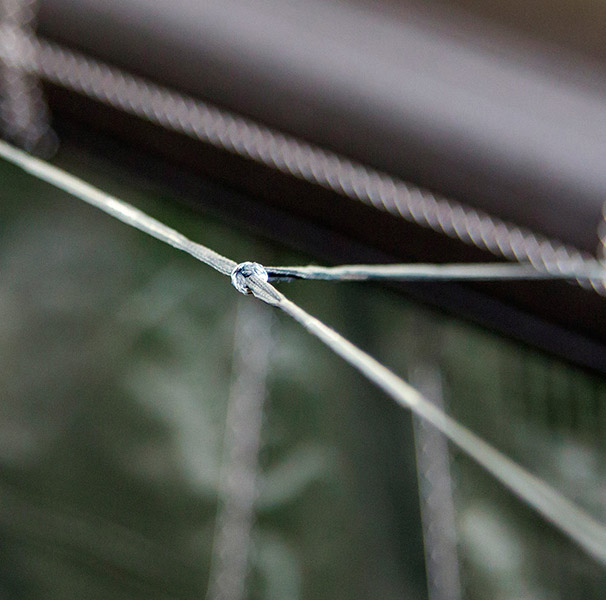 WHICH REO MODEL IS FOR YOU?
Reo V7
The V7 follows the Reo's original path of being the most pure focused wave kite you can buy with exquisite aerodynamic handling that ensures excellent, long-lasting performance. It may surprise you to note that the 'standard' V7 model is still lighter than some of the other available models on the market that are pitched as 'super light'.
The strength properties of the lighter weight materials in the Ultra-X are actually higher, but if you regularly kite off a rocky beach then the thicker materials of the regular V7 model will provide more 'scuffable' material with the extra layers of fibre for longer lasting wear and tear abuse.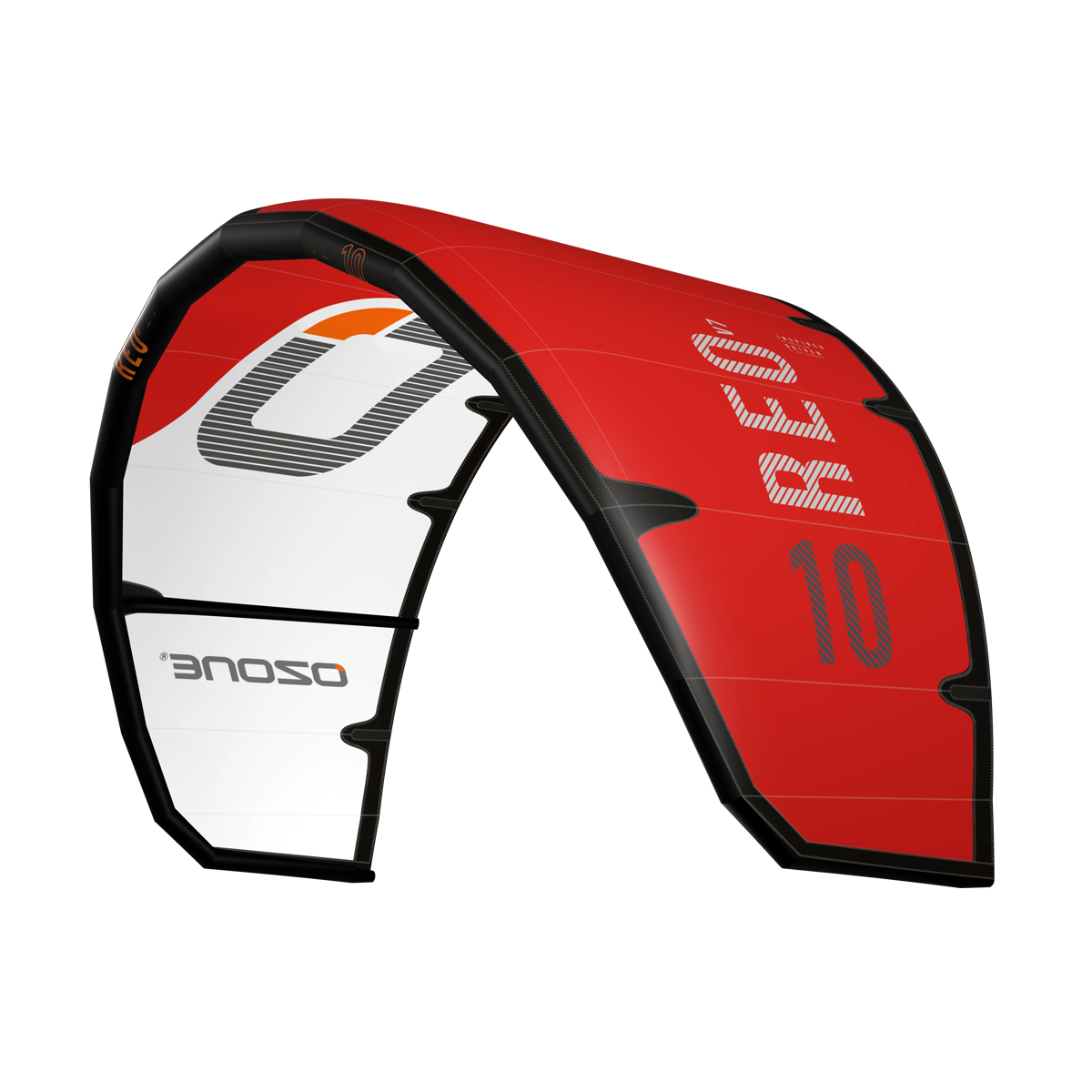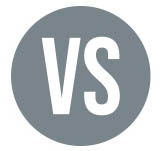 Reo V7 ULTRA-X
We've taken things a step further and implemented different materials into the same V7 framework. All materials used in the Ultra-X have been chosen because they're stiffer and often stronger for the intended use. However, like a carbon fibre road bike, the Ultra-X just requires an appreciation for how to handle high performance gear.
High performance levels are borne from the fact that our designers capitalise on having 100% access to Ozone's own factory to try new ideas and then produce as many prototypes as it takes to make products feel just right.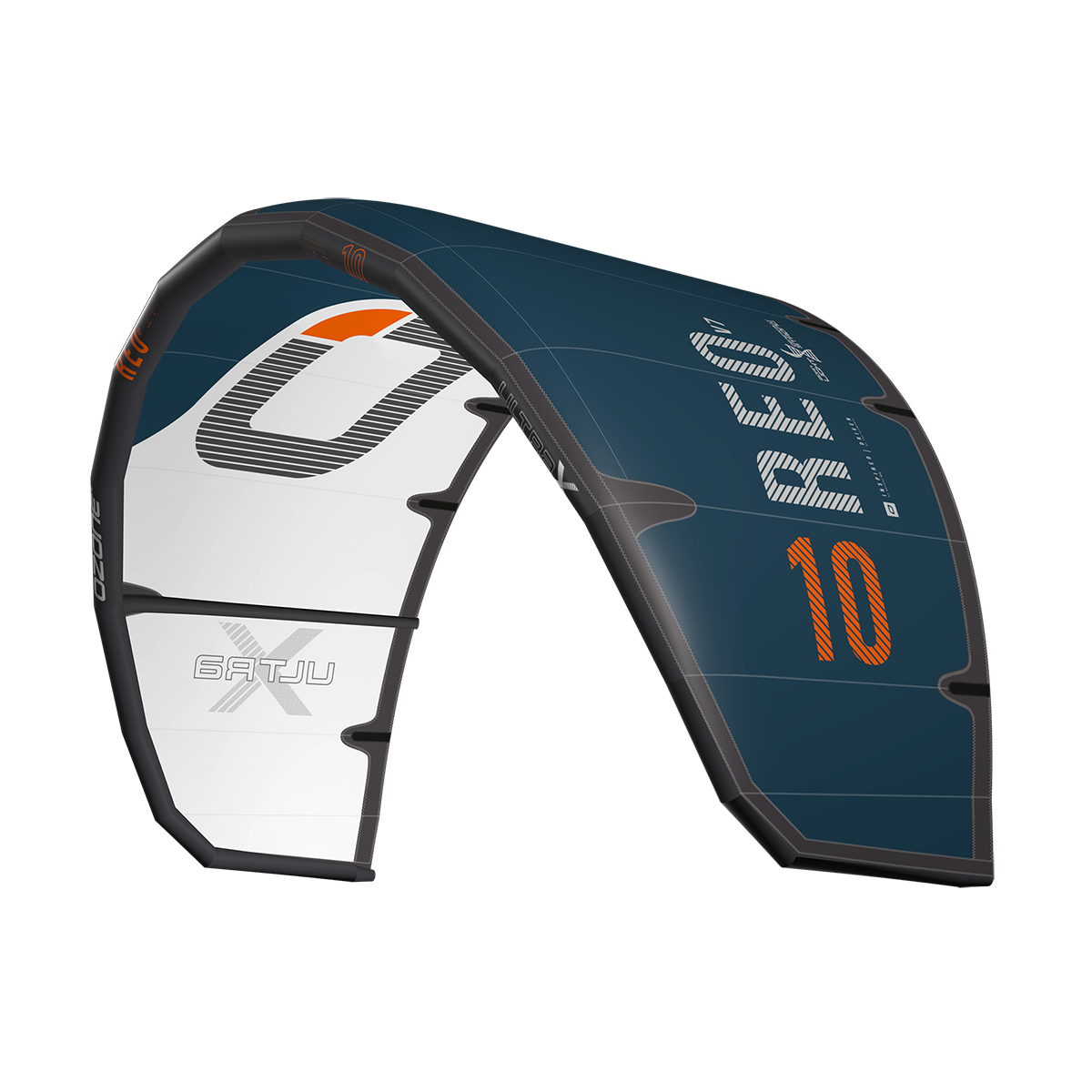 The Reo V7 Ultra-X has the same 'Reo' feel that we've all grown to love but with subtle enhancements of the smooth, predictable drift and direct feeling in the bar (to know that you're turning the kite purely through feel). The increased light wind drift and greater stability when fully depowered were apparent right from my first sessions. The direct response has also increased the amount of low end power I can generate from moving the kite through the wind window.

 

If you're serious about wave riding, I wouldn't hesitate to upgrade to the Ultra-X!
REO STEVENS
OZONE TEAM RIDER
WHAT YOU FEEL:
Incredible pure wave performance handling

Sensational drift

Ultra-quick steering response and drive through the window

Reduced tendency to nose dive at the edge of the window when lines slacken

Later luffing means better feedback and handling across a greater wind range

Excellent stability wherever the kite is in the wind window

More feeling, more feedback, more control

Lighter weight kites feel lighter and more responsive on the bar

More performance and stability especially in light winds

Packing volume is decreased
WHY YOU FEEL IT:
20% lighter performance dacron leading edge and strut material adds rigidity and quicker response
17% lighter sail cloth maximises lighter wind handling
Transverse sail shaping improves aerodynamics and creates an ultra- taut canopy
Lightweight EVA anti flap battens improve overall aerodynamic flow and trailing edge finish
25% lighter and 25-35% thinner Technora bridle lines
Two back-line tab settings to tweak bar pressure and turning speed
Compact, low aspect planform with intricate sail shaping for fast handling and direct response
Low volume three strut design to keep weight down while maintaining maximum support for the canopy
Thin leading edge diameter for lightest weight to rigidity ratio
Variable Bridle Geometry (VBG)
Quick and easy to change with no extra lines to add or remove. These bridle settings extend the kites operating range, bringing another level of versatility to this outstanding design.
Setting 1:
Offshore:
A balanced and refined feel with good forward speed perfect for most conditions, and excelling in cross-shore to offshore winds. The kite can sit further to the edge of the wind window when de-powered, drifting as you ride down the line.
The Offshore setting is the knot positioned part way up the VBG pigtail.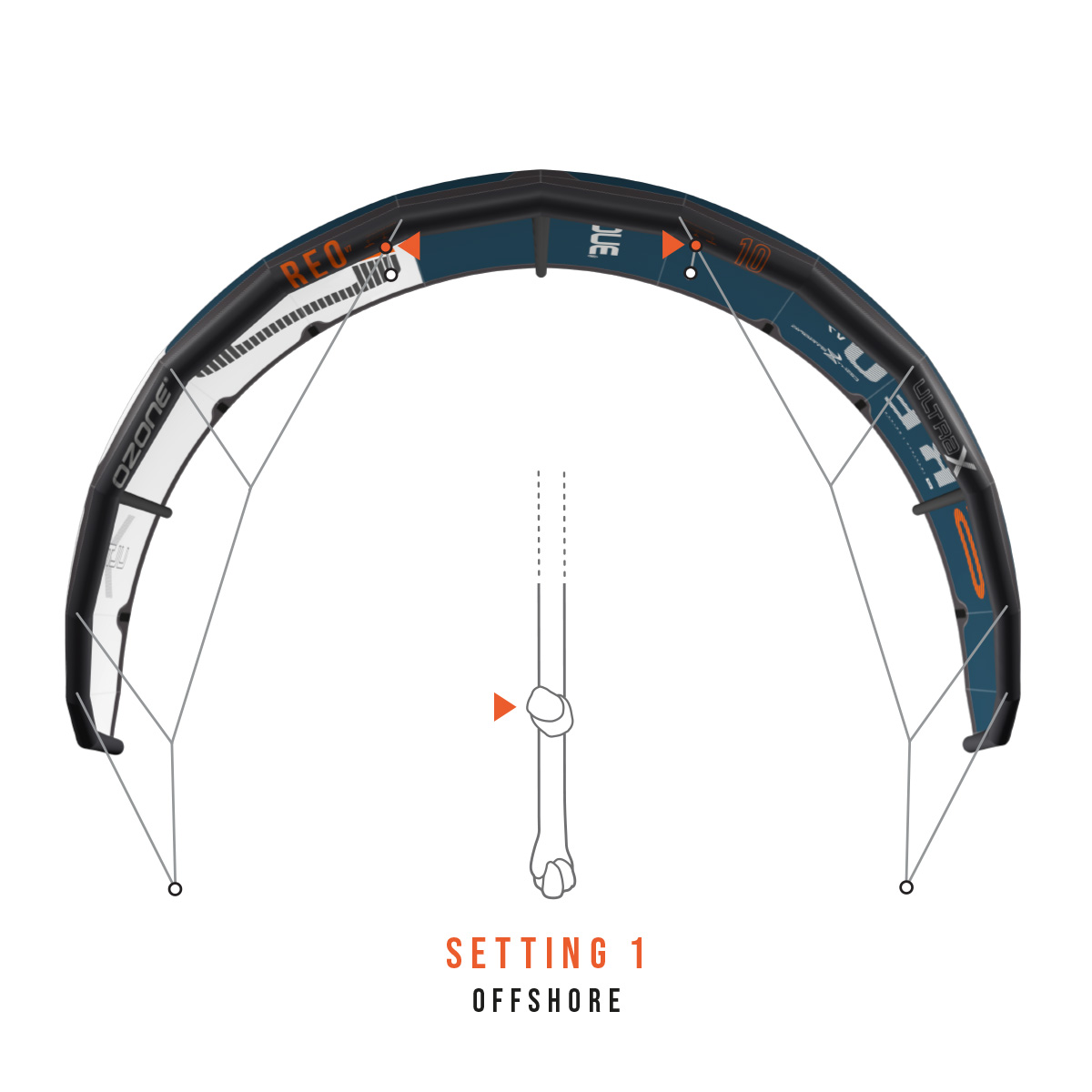 Setting 2:
Onshore:
The kite sits a little further back in the wind window and tackles onshore conditions with ease. Increased bar pressure improves feeling from the kite when a wave is pushing with the wind. If you prefer a slightly heavier feel this could be the setting for you.
The Onshore setting is the knot on the end of the VBG pigtail.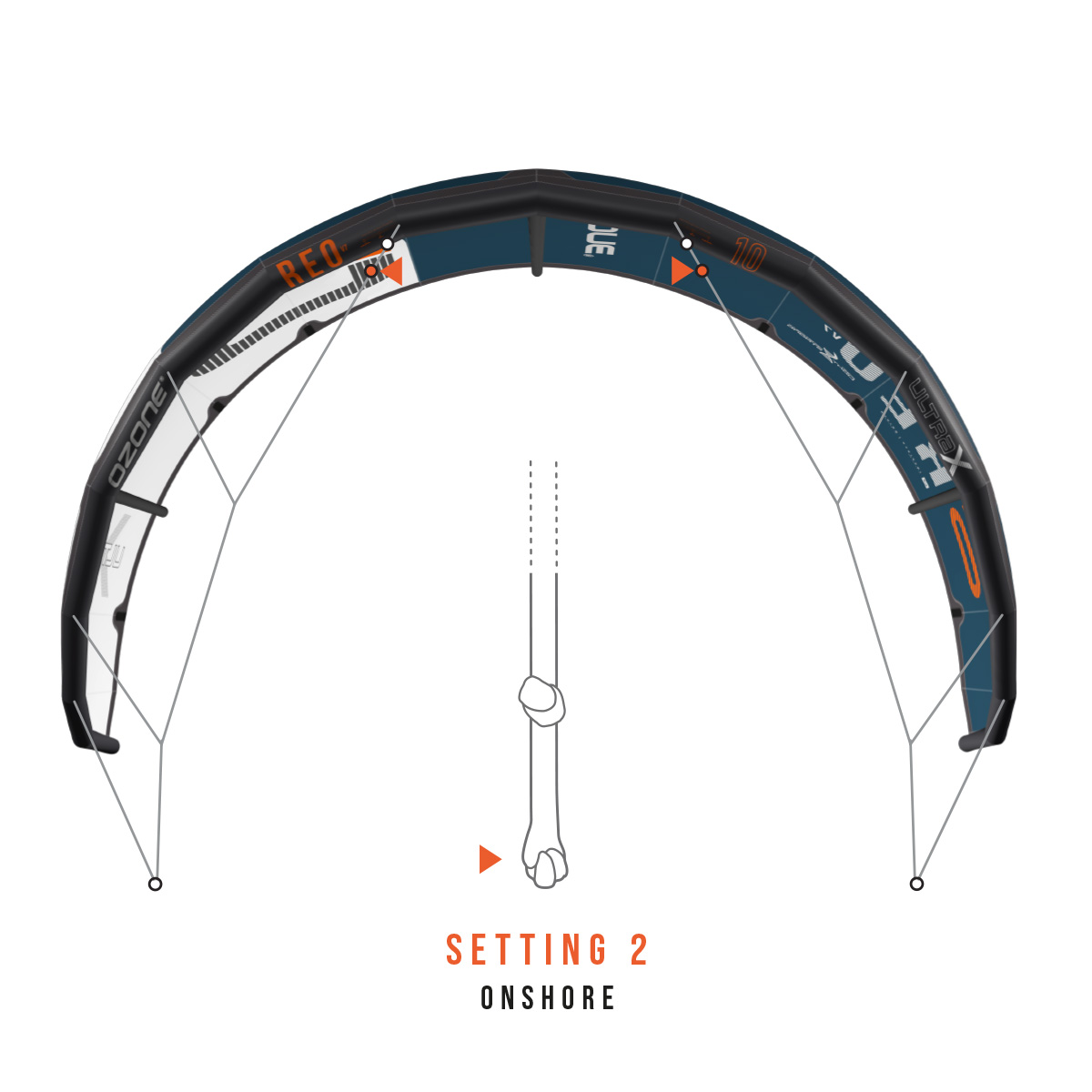 The Importance of Aerodynamics
We understand the importance of aerodynamics and weight saving especially on a kite where drift is imperative. Every detail has been refined to be as light as possible while maintaining the strength and integrity you expect from an Ozone product.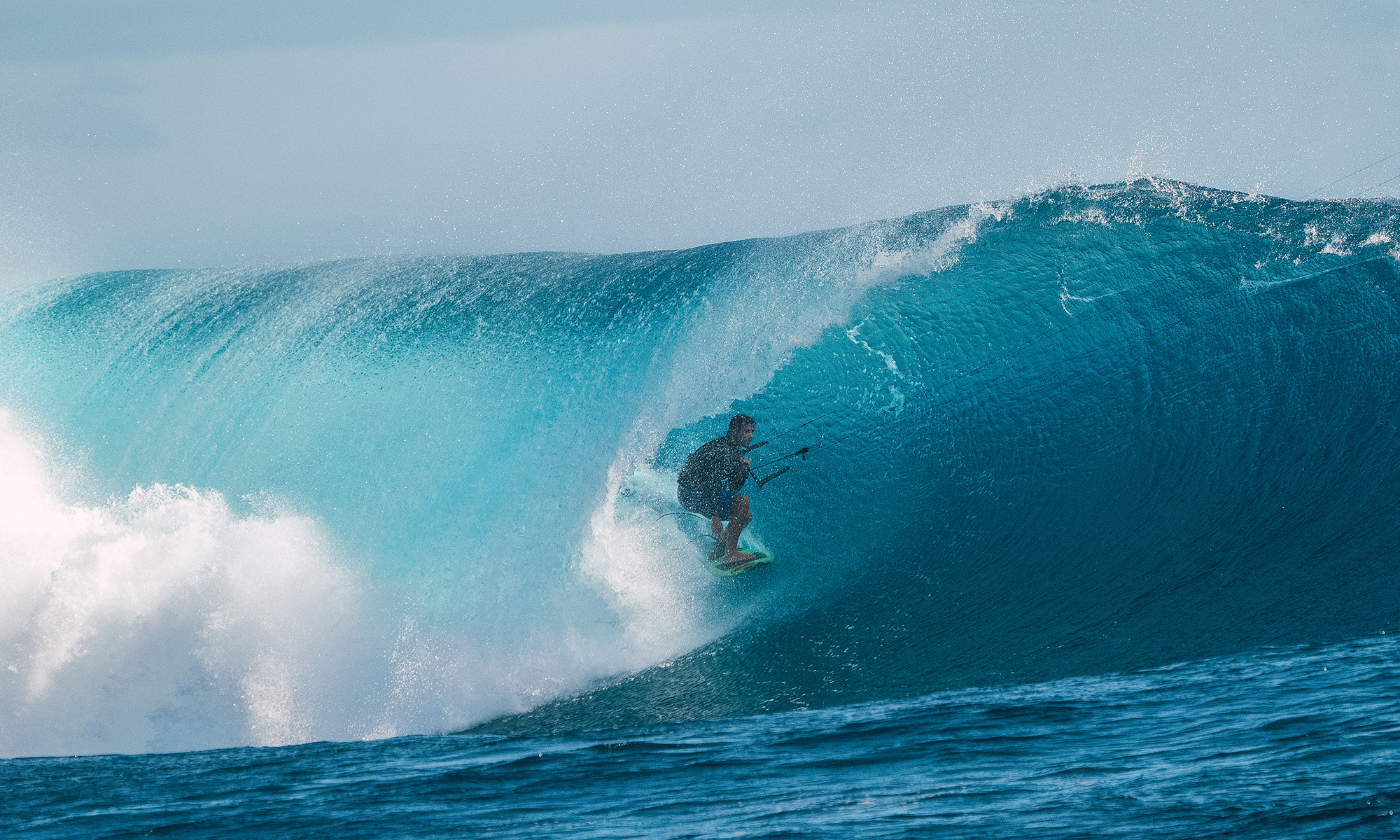 Customise Bar Pressure and Turning Speed
Un-hooked riders will feel at home on the Reo, it will fly and float in unison with your movements. Simply trim in with the cleat before unhooking, or if you prefer to ride un-hooked often we suggest adjusting the Control Systems back leader lines to the longer position. To customise bar pressure and turning speed for your personal preference use the rear line adjustment tabs on the kite.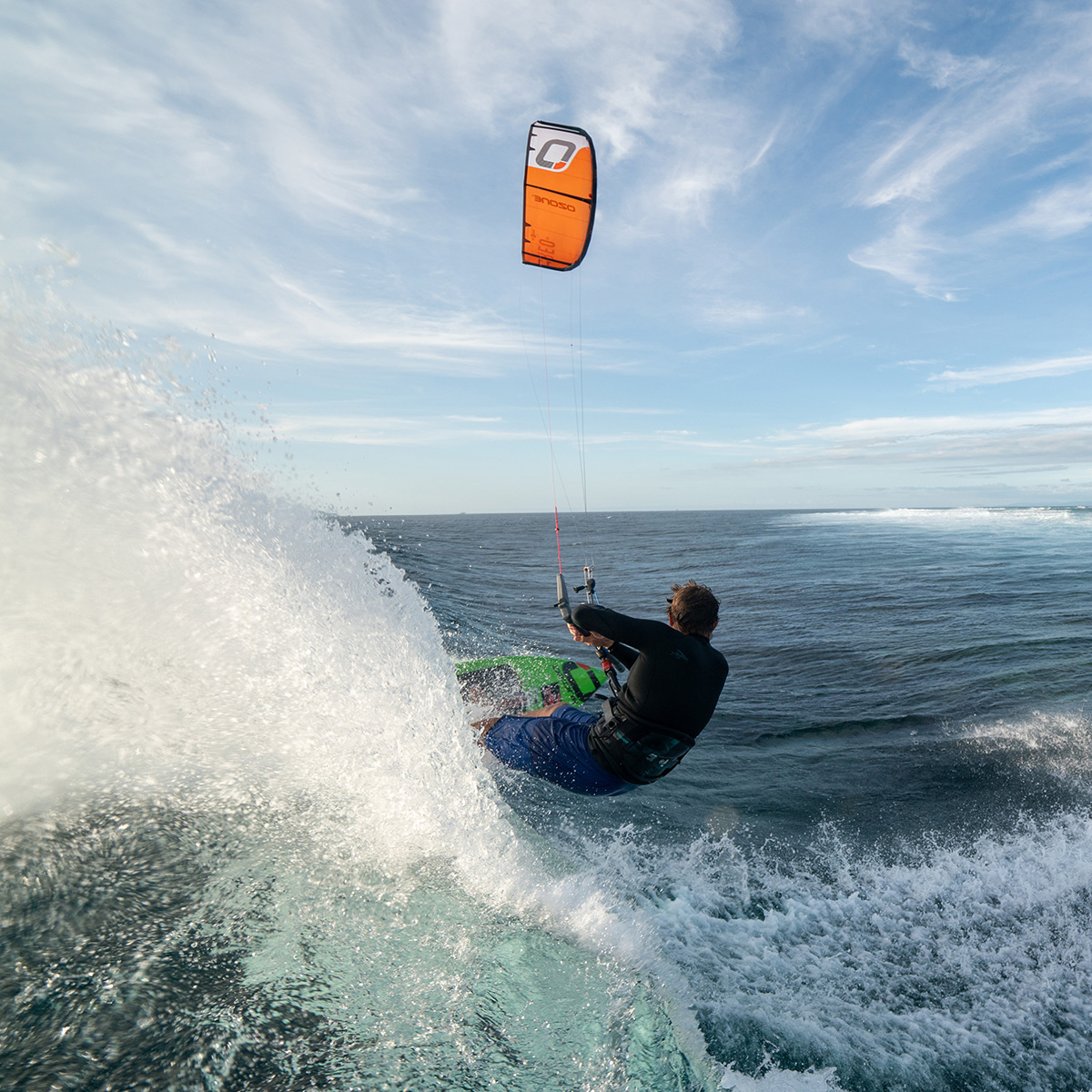 Easy Relaunch
Re-launch is quick and easy – by turning the bar or using the Re-launch Balls on the leader lines, the Reo will roll over and take off from the water in an instant. This is especially helpful if you're stuck in the impact zone and need to get out of there fast!
Share
View full details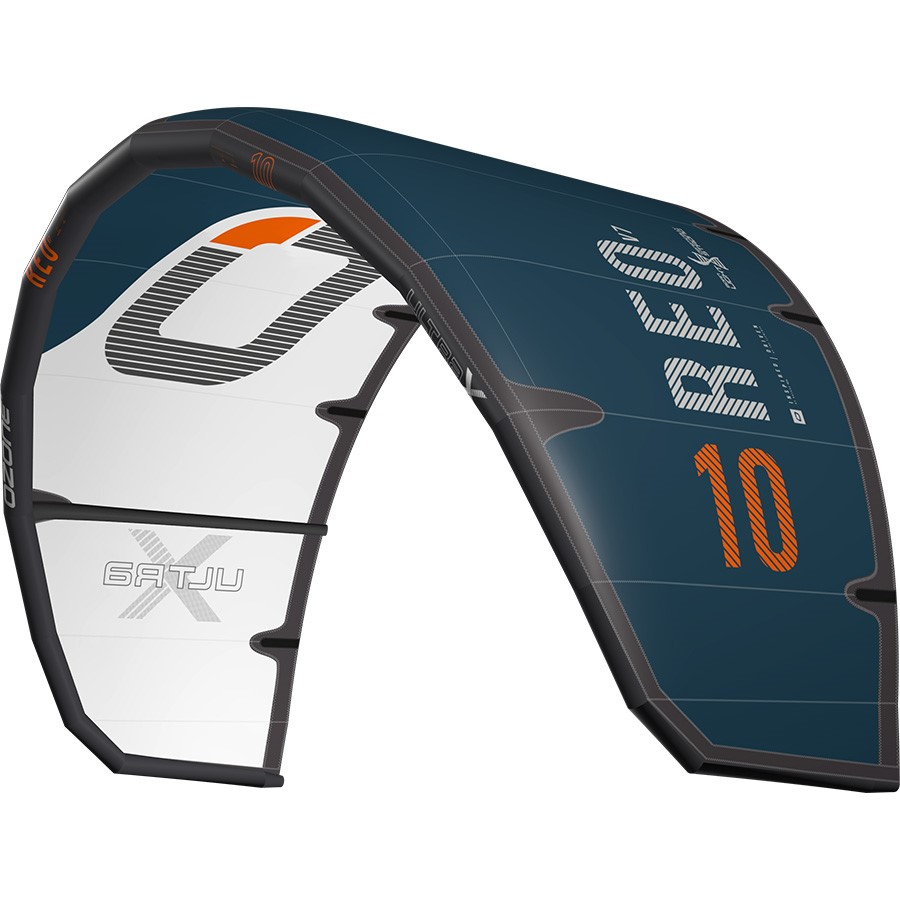 Free Shipping

U.S. ORDERS OF $39 OR MORE ARE ELIGIBLE FOR 100% FREE SHIPPING!

FREE SHIPPING ONLY AVAILABLE FOR ORDERS $39 OR MORE WITH A FEW EXCEPTIONS FOR SALE PRICE OR OVERSIZE ITEMS LIKE SURFBAORDS AND SUP'S. 

OFFER ONLY VALID FOR SHIPPING WITHIN THE CONTINENTAL UNITED STATES (48 CONTIGUOUS STATES).  EXTRA SHIPPING CHARGES APPLY OUTSIDE OF THESE CONTINENTAL STATES, SUCH AS ALASKA, HAWAII, PUERTO RICO, GUAM, WAKE ISLAND, FEDERATED STATES OF MICRONESIA, US VIRGIN ISLANDS, ETC.